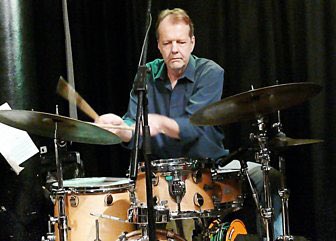 Excellent interview with drummer
Tom Rainey
over at
Point of Departure
. His list of drummers he was listening to in his early 20s is eerily similar to mine (if you add Robert Wyatt and Mitch Mitchell, and take away Gene Krupa and Buddy Rich):
TC: That makes perfect sense to me. Who do you consider your primary influences?

TR: The drummers that influenced me the most were all in my favorite bands. A brief and somewhat chronological list would look like: Ringo Starr (Beatles), Gene Krupa (Benny Goodman), Buddy Rich (Buddy Rich Big Band), Jack DeJohnette (Charles Lloyd and Miles Davis), Dave Garibaldi (Tower of Power), Billy Cobham (Mahavishnu Orchestra), Alphonse Mouzon and Eric Gravat (Weather Report), Tony Williams (Miles Davis), Elvin Jones (John Coltrane), Ed Blackwell and Billy Higgins (Ornette Coleman), and Paul Motian (Paul Motian Quintet and Trio). There is so much more music across every genre that has informed me and this list represents only what I listened to through childhood into my early 20's.