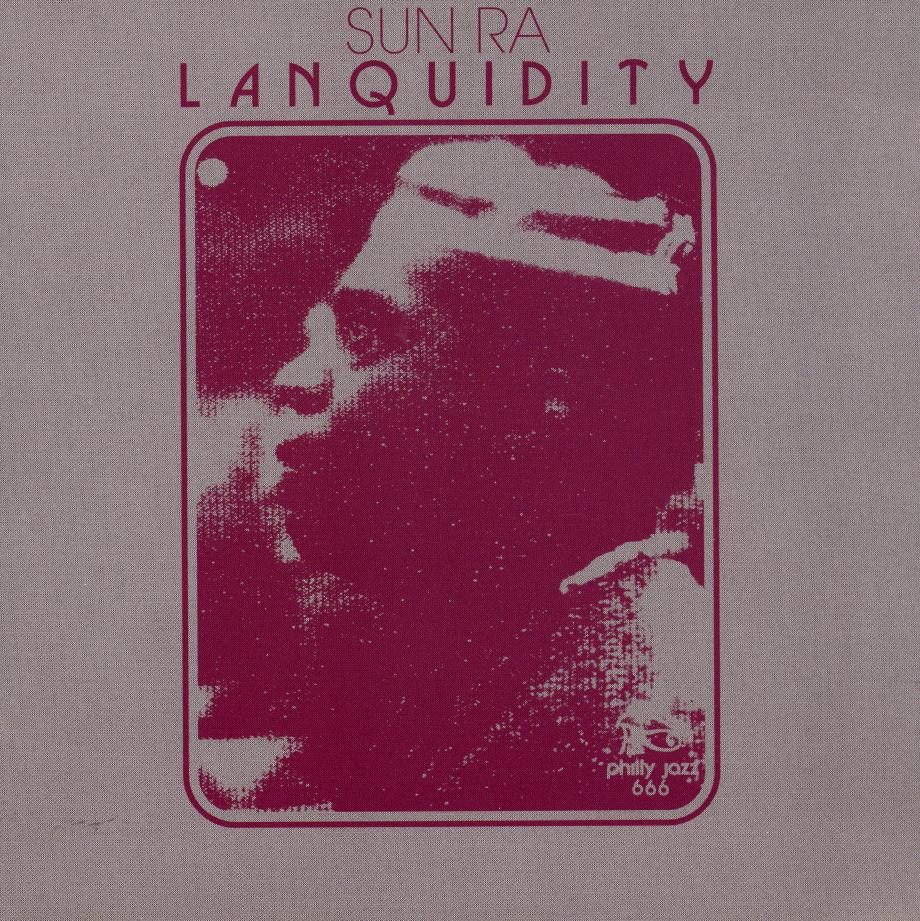 [
A little over 10 years ago, I used to write record reviews for Nine Times, a publication of Plan 9 Music. From time to time I will put up some of these reviews for posterity.
]
Sun Ra and his Myth Science Arkestra
"When Angels Speak of Love"
Sun Ra
"The Great Lost Sun Ra Albums: Cymbals/Crystal Spears"
Sun Ra and his Astro Infinity Arkestra
"Pathways to Unknown Worlds/Friendly Love"
Sun Ra
"Lanquidity"
Sun Ra and his Arkestra
"Greatest Hits: Easy Listening for Intergalactic Travel"
(Evidence)
Back in 1991, Evidence Music began an ambitious CD reissue program of Sun Ra's albums originally put out on his own homegrown label Saturn. When those albums were first released in the '60s and '70s, they were pretty hard to find. Unless you bought them from the Arkestra after a gig, or lived in Philadelphia and were able to stop by Evidence owner Jerry Gordon's record store, you just didn't see those records around much. You certainly couldn't pick them up at your local Woolworth's or Rose's. Obscure from the first, many Saturn LPs had plain white covers with hand-drawn labels on the vinyl. Lately, especially since Ra's passing in 1993, those original records have skyrocketed in value, fetching astronomically ridiculous prices on eBay.
For those if us without a few extra thousand bucks or so to spare for the occasional jazz album, the Evidence reissues have been a godsend. Making so much of this music widely and easily available for the first time has caused major critical re-evaluation of Sun Ra's legacy. It's a remarkable body of work, formidable and beautiful, dynamic and influential. The early CDs put out by Evidence focused mainly on Saturns that had been recorded in the late '50s and early '60s, including such masterpieces as Angels and Demons at Play and The Magic City, and culminating in 1996's award-winning double CD The Singles.
Now we have a new batch of Sun Ra, and it's an amazing group of recordings: a classic from 1963, several early '70s recordings, and a greatest hits package. Evidence even goes far beyond "reissues" to excavate Ra music never before released. For Ra fans and fanatics, these new CDs are incredible finds, and for newcomers, they stand up as excellent examples of his musical vision of the magic of jazz, highlighting his versatility and vitality.
The earliest reissue here, When Angels Speak of Love (1963), may be the rarest Saturn of all: supposedly, only 150 albums were pressed! Two tracks, the title cut and an edited "Next Stop Mars," appeared on the 1989 Blast First compilation Out There a Minute. In 1963 Ra was still primarily playing acoustic piano, although he'd recorded electric piano as early as 1956. The 10-minute "Ecstasy of Being" is one of the earliest Ra pieces to feature his playing on Clavioline. With the heavy use of reverb ("played" on the spot by drummer Thomas "Bugs" Hunter), this track and "Celestial Love" are reminiscent of the 1963 psychedelic extravaganza Cosmic Tones for Mental Therapy (also on Evidence). When Angels Speak of Love is notable for several other reasons. It shows Sun Ra to be firmly in the forefront of the New York avant-garde jazz scene. It's got some of the most aggressive sax playing for its time this side of Albert Ayler, especially on "Next Stop Mars," which features tenor saxophonist John Gilmore, alto saxophonists Marshall Allen and Danny Davis, and Pat Patrick on baritone sax blowing the roof off, backed by Ra on piano at his most Cecil Taylor-esque. Ra was a master of many keyboard styles; here he plays with power, dexterity, and inventiveness equaled only by Cecil Taylor in his prime (which I define as the last 40 years). And yet, even at its most intense, it's not just uncontrolled blowing going on here; it's a carefully orchestrated series of solos and combinations of instruments played in a progressively logical manner. Even at his most free, Ra exercised discipline and control.
When Angels Speak of Love also features extensively the wonderful trumpet work of Walter Miller, one of many excellent musicians who spent major parts of their careers playing with the Arkestra, and usually not getting the wider recognition they deserved from the jazz community or the jazz press. Miller
hailed from Birmingham, Alabama, same as Ra (when he was known by his earthly name Sonny Blount), and had played in one of Ra's early bands. He does excellent work on several of Sun Ra's landmark recordings:
The Magic City
,
Other Planes of There
, and
Heliocentric Worlds of Sun Ra, Vol. 2
, and this one. His soloing is post-bop playing of the highest order. Along with Gilmore, he navigates the insanely fast and tortuous head of "The Idea of It All" with ease. It's a pleasure to have more of Miller on CD.
With Ra's ongoing experimentation with electronic keyboards, reverb, and other manipulated sounds, the invention of the synthesizer was tailor-made for him. He even managed to obtain an early demo version of one of Robert Moog's synthesizers before they were commercially available (you can hear some of the results on 1969's My Brother the Wind Vol. II, also on Evidence). He was one of the pioneers of the synthesizer, and the '70s were when he really began to use it extensively, especially the Mini-Moog. Synthesizers opened up a whole new sonic universe for him, one he was to explore in depth for the next 20 years. Live recordings like Black Myth/Out in Space (1970, Motor Music) and Horizon (1971, Saturn) feature long, bombastic explosions of industrial-strength synthesized sound, often in a solo context. As the '70s went on, he began to integrate the synthesizer more into the predominantly acoustic sound of the Arkestra, to create a radically different jazz music not remotely similar to much else going on at the time (or since, really). This is where we find Ra at the time of the 1973 recordings reissued here.
In 1972 Ra signed a contract with ABC/Impulse, both to put out new recordings and to reissue old Saturns. Several albums' worth of material was recorded, but of this new music only Pathways to Unknown Worlds and Astro Black were released (hopefully Astro Black will be reissued some day). None of the Impulse albums stayed in print very long, and pretty soon Impulse dropped Ra. But now, an archaeological miracle has occurred: in addition to Pathways, we also have 3 more albums that were never released, all recorded in 1973. To put it mildly, it's amazing to have this much brand new Ra material come out at once. Cymbals and Crystal Spears, packaged together as the 2-CD set The Great Lost Sun Ra Albums, were for a long time only rumored to exist (as it turns out, 3 cuts from Cymbals were in fact released by Saturn in 1973 on the LP Deep Purple). Friendly Love, coupled on CD with Pathways, was unknown even to expert Ra discographer Robert L. Campbell until very recently.
Ra's synthesizer is very much in evidence here (pun intended), and in his hands it doesn't sound like anyone else. We're not talking Wendy Carlos here. Sun Ra uses the synth very much as a jazz instrument, fully integrated into the group sound both as a solo voice and as a background sound texture creating an electronic space environment--call it abstract comping. Live recordings from this period, as mentioned earlier, are pretty wild, with a lot of unfettered group improv, however controlled by Ra, with blasts of keyboards, horns, and percussion. These studio recordings get pretty wild, too, but in a more subdued, layered, subtle fashion, if that makes any sense. The music is definitely out and intense, but with a depth of clarity and vision that is deeply beautiful. Ra clearly knows what he wants his ensemble to achieve. All of these recordings have a large amount of small ensemble guided improvisation--even though the Arkestra is a "big band," for much of the time only subsets of the group play at the same time. This music is a direct development of the direction taken by 1964's Other Planes of There (Evidence), with its guided series of solo, duet, and trio combinations: heavily-arranged improvisation with strong compositional direction.
Of the 1973 albums, Cymbals has the highest quotient of conventionally swinging blues-jazz. After "The World of the Invisible," a foray into tempered high energy with healthy doses of synthesizer, the album settles into long, slinking processional organ grooves. "Thoughts Under a Dark Blue Light" has one of the greatest John Gilmore tenor sax solos he ever recorded (and that's saying a lot!). It's also got a wonderful trumpet solo by another unknown Arkestra great, Akh Tal Ebah. Ebah and Kwame Hadi were two of the great trumpet players Ra used in the 70s. They often played together in duets, but on the 1973 CDs here Ra has them solo separately quite a bit. Both are mellow but intense players who often use mutes and who burn with virtuosic energy. "Order of the Pharaonic Jesters" is a feature for Ra's organ playing, backed by a great walking bass line from Ronnie Boykins.
The title track of Crystal Spears starts off with solo Mini-Moog, suggesting travel into the outer spheres of space, and also into the inner spheres of consciousness. For Ra, space is the place, but that means not just outer space but inner space as well. To that end, much of this music is contemplative and introspective, and its often arrhythmic fluctuations sometimes mirror the smooth movement of the freely-ranging mind. "The Embassy of the Living God" is another long guided improv piece, played sparsely for the most part, with Marshall Allen on oboe. "Sunrise in the Western Sky" is mostly a feature for John Gilmore. It starts off with percussion, oboe, and electronic vibes and gong (played by Ra), then mutates into a long (almost 20 minutes) Gilmore solo. The piece has a mysterious brooding beauty that gains depth with repeated listenings. (All of this music, in fact, is very rich, and it takes several listenings to discover its hidden depths.)
Overall, Pathways to Unknown Worlds is much more out in an aggressive way. Like When Angels, it boasts one of Ra's strongest rhythm sections, Ronnie Boykins on bass and Clifford Jarvis on drums, supplying a perpetually changing backdrop for the other players. The title cut has muted trumpet (Hadi), Mini-Moog, oboe, bass clarinet (Eloe Omoe), and tenor sax lines darting in and out in an otherworldly conversation. A new piece, "Untitled," that didn't appear on the original LP, is heavily percussive and highlights Ra's vacuum cleaner-style synthesizer. "Extension Out" starts off with a bang, with intense bass clarinet and excellent energy playing. "Cosmo-Media" has yet more intense sweeper synth, anchored by Boykins' bass and propelled by Jarvis' out drumming. All of these pieces have the feel of a suite; the mood flows and is sustained thoughout all 4 tracks.
The same is true for the newly-discovered Friendly Love, which is simply numbered parts I-IV since the individual titles, if there were any, are unknown. If anything, the music of Friendly Love is even more abstract than the other 1973 recordings. It features the heavy use of exotic instrumentation, including the "space dimension mellophone" (a mellophone with a contrabassoon reed) and the "Neptunian libflecto" (a bassoon with a mouthpiece from either a French horn or an alto sax), in addition to the more standard (for Ra in this period anyway) oboe, bass clarinet, and electronic keyboards. As distinctive as these instruments are, though, they are all subservient to the overall sound of the ensemble as a whole, further testament to Ra's arranging and conducting genius.
Lanquidity, recorded 3 years later in 1976, originally appeared on the Philly Jazz label. In recent years this album has become a favorite of dance music samplers, and it's easy to see why: it's chock full of great funky grooves. It's very similar in feel to 1979's Strange Celestial Road (Rounder), with long, spacey grooves dominated by Fender Rhodes and two electric guitars, perhaps a galaxy or so to the left of Miles' '70s universe. For me, the revelation of this album is that every track features yet another killer Gilmore solo. How many earth-shatteringly brilliant tenor sax solos can one human not named John Coltrane record? Quite a few, evidently. The standout cut on Lanquidity, "Where Pathways Meet," is also the fastest, with its great heavy funk horn line, anchored by the baritone sax of Danny Thompson and doubled by piano. The only vocals on the CD are the mostly wordless humming and ethereal whispering of "There are Other Worlds," backed by swirling keyboard lines.
A quick note about Greatest Hits: at least they didn't include any songs not already out on other discs. One can always quibble with the selection of collections like this; as Irwin Chusid has quoted Dennis Diken as saying, "Everybody's compilation sucks but your own." That said, this is a decent CD for the newcomer to Ra. You get a good sampling of the wide range of Ra's music from the mid-50s to the late 70s, with a couple of great Gilmore features (especially "Rocket Number Nine"), early hard bop ("Saturn" and "Medicine for a Nightmare"), and the synthesizer marvel "The Perfect Man." Yet there's also enough out stuff to let the novice know that the musical universe of Sun Ra is not always a safe one ("Thither and Yon" and "The Alter Destiny"). So it could have its uses.
All of these CDs maintain the high standards of sound reproduction, documentation, and packaging that Evidence has given past Ra releases. These are substantial, hefty recordings that truly deserve to see the light of day. The sheer diversity of the music here, even just from the single year of 1973, is staggering. Sun Ra may have moved on to other galaxies, but he left us pathways and interstellar spaceways to keep us busy following him forever.
2000 (Originally published in Nine Times, November 2000)