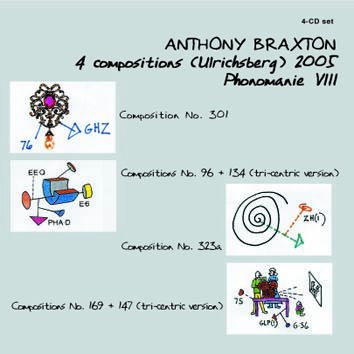 Includes a great version of
Composition 96
...but I think the large ensemble piece
Compositions No. 169 + 147
is my favorite on this box. At any rate, I feel like I will -always- be playing catch-up with the work of Mr. Braxton!
Playlist 2015-01-26:
*AMM: 2003-11-12 Glasgow (CDR)
*Anthony Braxton with the Northwest Creative Orchestra: Eugene (1989)
*Anthony Braxton: 4 Compositions (Ulrichsberg) 2005 Phonomanie VIII (discs 2, 4)
*Don Cherry: Where Is Brooklyn?
*Rodger Coleman & Sam Byrd: 2014-12-29 Nashville (wav)
*Rodger Coleman & Sam Byrd: 2014-12-30 Nashville (wav)
*Mary Halvorson/Jessica Pavone/Devin Hoff/Ches Smith: Calling All Portraits
*Billie Holiday: Lady Day: The Complete Billie Holiday on Columbia 1933–1944 (disc 9)
*Ingrid Laubrock Anti-House: Strong Place
*Ingrid Laubrock Anti-House: 2014-09-26 Darmstadt, Germany (CDR)
*Mindbreath Trio: 2015-01-10 Union Arts, Washington DC (wav)
*Music Revelation Ensemble: 1980-05-26 Moers (CDR)
*New Ting Ting Loft: 2015-01-05 "Quirk Elastic" (wav)
*Sonny Rollins: The Definitive Sonny Rollins on Prestige, Riverside, and Contemporary (disc 1)
*Synthesis: Sentiments
*Cecil Taylor Feel Trio: Two Ts for a Lovely T (discs 9, 10)
*Weasel Walter/Mary Halvorson/Peter Evans: Electric Fruit
*Beatles: With the Beatles (2009 mono remaster)
*D'Angelo and the Vanguard: Black Messiah
*Bob Dylan and The Band: The Basement Tapes- Complete (disc 3)
*Mike Elder/Harry Forrest/Greg Jordan/Sam Byrd: 2015-01-23 (wav)
*Electric Wurms: Musik, Die Schwer Zu Twerk
*Flying Lotus: Los Angeles
*Guided By Voices: Cool Planet
*Henry Cow: Live on Radio Bremen 1978 (boot CDR) (disc 1)
*John/Paul/George/Ringo: Post-Beatles (cassette compilation)
*Kinks: The Kink Kontroversy
*Pere Ubu: Lady from Shanghai
*Irma Thomas: Soul Queen of New Orleans (disc 2)
*Wig Drop: Wig Drop (selections)