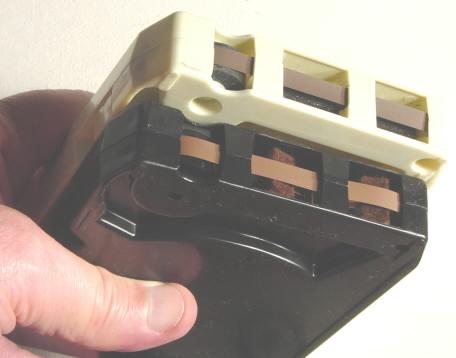 http://fieldwoodhs.ednet.ns.ca/cfhswilftape148.html
New Ting Ting Loft member
Tommy Birchett
is performing twice this weekend in Brooklyn, once as a member of the
8-Track Magic Orchestra
, and once in a solo gig. Both shows should be awesome noise feasts, whether he's playing 8-track cassettes, audio cassettes, scratching sounds, slides, or bowed styrofoam. Last night Tommy unleashed some of his 8-track magic on New Ting, and it was momentous and stimulating. I'll be putting that piece up soon on the
Internet Archive
. So if you're up there and willing, check it out!
Here are details:
Musical Ecologies
continues

Thursday December 11th

with New York-based artist and composer
Gen Ken Montgomery
. The evening will feature a rare performance of his 1994 concept piece The 8-Track Magic Orchestra with performers
Sean Julian
,
Kevin Beasly
,
Barry Weisblat
,
Lary Seven
,
Tommy Birchett
,
Nancy Hwang
and
Fabio Roberti
. Conducted by Montgomery, the performers use vintage 8-track players to perform with decaying commercially released 8-track tapes originally designed for playback in Lear jets. In the resulting performance, Montgomery engages in a form of "Oxide decontructivism of popular culture stuck in time" and attempts "…to extract sonic magic using these gloriously fun, sexy, unstable tapes created for the Space Age." The evening will also include an 8-track solo performance by the composer.
Saturday

& Sundays

12-6pm
Gen Ken Montgomery will present...
Re-Launch of GENERATIONS UNLIMITED dramatic electronic music label PrintShop Hosted by ALLGOLD in the Printshop at PS1/MOMA. Opening reception & Lamination Ritual Saturday Dec. 6, 12-6pm. Concerts, installations and screenings curated by Ken Montgomery featuring: Arcane Device, Benton Bainbridge, Charles Cohen, CHOP SHOP, Conrad Schnitzler, Daren Ho, Enchantress of Bioluminosity, G. Lucas Crane, Gen Ken, If, Bwana, Lary 7, Kevin Beasley, Naval Cassidy, Ryder Cooley, Screwfeet, Unquent, The Sons of God and Tommy Birchett.
Facebook invite for entire AllGold series